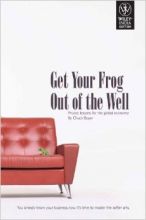 I just finished and enjoyed a short book by fellow New Englander Chuck Boyer, entitled:
Get Your Frog Out of the Well - Private lessons for the global economy.
The 
frog book,
as the author privately refers to it,  is published by Wiley-India and is currently sold only on the Indian sub-continent. If you're reading my blog from the USA, you're going to have a hard time finding and buying this book. I apologize to my American audience for that, and I urge my Indian readers to head out to the book store right away.  Released mid-year, this book has been at or near the top of the non-fiction list in India ever since. And with good reason!
The framework for the book, as well as the source for the title, is a speech given in the 1890's by
Swami Vivekananda
, a Hindu teacher widely credited with the revival of Hinduism in India and beyond.  In the speech, he admonished his US audience to consider the world beyond their immediate line of sight -  and to not be "like a frog in a well."  (Chuck tells the story better in the book...)
The point of the parable, one I've frequently tried to get across in my blog posts about communication, is that the world is a big place, and that it's naive and foolish to consider only your own point of reference in any attempt to communicate with a global audience.  
This parable makes a great start to a book about communicating and working with Americans.  It's a fair summary to say that the book is written for professionals working in India's booming IT and software development industry.  These people are usually smart, well-educated technicians.  But they may not have the soft skills necessary to succeed when they are required to work with peers and managers in the USA.  I've experienced this problem first hand, and this book can help.  
Well researched and concisely written, this book offers good advice on communication style, keen insights into some broad general trends about Americans, and lots of stories and anecdotes that make the book approachable and keep it interesting.
So I think it's fair to presume that anyone interested in my blog will enjoy and learn from this book.  
I can imagine buying multiple copies of this book and giving it out to entire teams of engineers in India  It would make a great basis for a multi-part book-club meeting, to help the team talk through communication strategies and tricks to be more effective with their US peers or clients.  
If you're lucky enough to be in India any time soon, pick up a copy.  You'll enjoy it!
(as an aside, you can buy it
here
, but I didn't check to see what
rediff
will charge to ship a copy to the USA.) 
---